Bitcoin became known as the first-ever digital currency that made the use of blockchain technology into reality. However, the emergence of three Bitcoin factions with different ticker symbols has confused investors over the previous years. This article will present a brief history of the Bitcoin disputes and how Bitcoin SV came to be the leading blockchain after "the Great Reset."
The Two Divides
 Although Bitcoin has continued to increase in value over the decades, its history was plagued with disagreements over scaling and protocol changes. The Bitcoin community became divided over these two major issues; and in 2017, it was finally split into two: Bitcoin Core (BTC) and Bitcoin Cash (BCH).
This initial divide allowed BTC to keep its block size cap a miniscule 1MB. BTC's solution to this tiny block size is to make changes into what was supposed to be a fixed protocol that would enable for Bitcoin transactions to be transacted off-chain. This was realized when BTC released "Segregated Witness," new source code that changed the Bitcoin protocol and made off-chain Bitcoin transactions untraceable.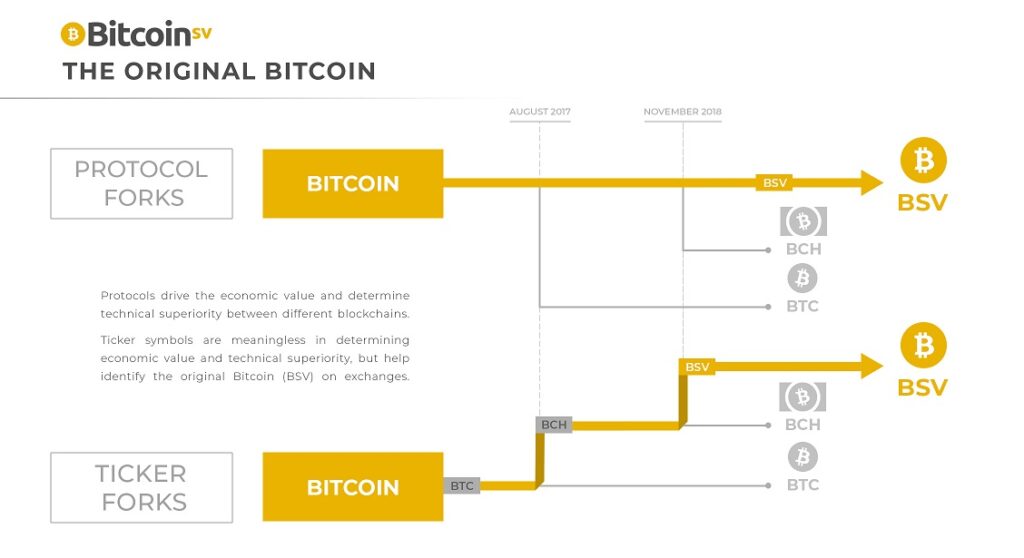 BCH, on the other hand, increased its block size to 32MB and continued to record transactions on-chain, as it should be. However, not a year had passed and BCH developers, led by the ABC Implementation, wanted to stop scaling and again change the protocol to create an electronic payment system that is both anonymous and untraceable.
Since then, BCH has deviated farther from what the original Bitcoin vision is, introducing controversial protocol changes two or more times a year. In fact, Roger Ver, Bitcoin.com's CEO, even stated in a video that BCH allows "permission-less use. You don't need permission to do whatever the hell you want with it…If you want to buy drugs on the Internet, that's just fine too." Well, it certainly was not fine for Bitcoin creator Dr. Craig S. Wright a.k.a. Satoshi Nakamoto and many who believe in his vision.
The Great Reset
On November 15, 2018, those who were fed up with BCH separated from it and put up Bitcoin SV, which stands for Satoshi Vision. In what is known as "the Great Reset," Bitcoin SV proceeded to restore the original Bitcoin design in staying true to Nakamoto's vision of a stable protocol that allows for limitless scaling.
The Bitcoin protocol is now as close as possible to what it was originally, engendering stability that allows for major industries all over the world to build applications on top of it, without making any changes to its core design. This is how a protocol should be, in exactly the same way that the Internet protocol warranted the emergence of various online industries decades ago.
Bitcoin SV: One Global Chain
By bringing back the original Bitcoin protocol, Bitcoin SV has also unleashed the blockchain's power to scale massively. In less than a year since its changed its ticker symbol to BSV, Bitcoin hadlaunched an upgrade that increased its block size cap from 128MB to 2GB. And early in 2020, the Genesis Upgrade was released, fully restoring the Bitcoin protocol, unlocking limitless scaling, introducing further enhancements in Bitcoin SV security and ensuring that the network works within the law.
With a set-in-stone protocol and an unlimited block size, software developers can now build platforms and applications on the BSV blockchain. Bitcoin SV has capitalized on the fact that data is the building block of the infinitely growing digital economy and created a BSV ecosystem that places value on data. As the Internet has made it possible for absolutely everything to be online, so will Bitcoin SV bring about a world where everything is on-chain.