You already know bitcoin was the pioneer cryptocurrency. But along the way, thousands of cryptocurrencies (altcoins) have popped up. Most of these altcoins are based on Bitcoin blockchain technology as modified or improved versions of the virtual currency. Some cryptos such as Bitcoin Gold and Bitcoin Cash are outright bitcoin clones.
That said, the relation between bitcoin and altcoins relations goes beyond their development design. The prices of Bitcoin and altcoins are correlated. For instance, DOGE, Ethreum, and Cardano have exhibited strong positive correlations with BTC prices. That means if a site that provides crypto forecasts predicts for BTC to increase in value and it really happens, there is also a high chance that these altcoins will grow as well.
Understanding Price Correlation 
Correlation is a statistical metric that measures the strength of the relationship between the prices of two assets. The correlation coefficient ranges from one to a negative one (1 to -1). A correlation coefficient of 1 is a perfect positive correlation. This means that the price of two assets moves in lockstep.
On the other hand, a negative correlation means the prices of two assets move in opposite directions. Zero correlation means the prices of two assets do not have any relation at all. The price of the assets moves independently.
Price correlation During Bitcoin Bull Run 
There are thousands of altcoins with a market value running into millions of dollars. Many of these cryptocurrencies have a high correlation with bitcoin. This means these altcoins exhibited a price increase during the bitcoin bull run.
Bitcoin opened the year trading below $30000 but increased to an all-time high of $64000 in May.  It, however, dipped below $30000 in June. The good news is that the price has risen to $47000. During the same time, Cardano, Ethereum, and Dogecoin prices also increased significantly to hit new highs between April and May.
Ethereum experienced a smooth rise from January to reach an all-time high at $4297.96 on May 12. Just like Bitcoin, after hitting an all-time high, the price plummeted more than 50% to hit $1730.96 on June 26. However, the bulls have regained market control, and the price is currently trading at $3342.76
Cardano has also experienced a similar price movement. The altcoin price increased from January to hit new highs of $2.4182 on May 16.  However, the price plummeted to $1.191 in June, representing about 50% loss in value. However, the price has surged again to hit new highs of $2.944.
Unlike the other altcoins, Dogecoin price remained at a tight range from the beginning of the year to late April, when it started surging. The price increased to hit new highs of $.07364 in May. The price then dipped to hit lows of $0.1641 in July. However, the price has regained its value and is trading in the range of $0.3.
These scenarios point to a positive correlation between Bitcoin and major altcoins, namely Dogecoin, Ethereum, and Cardano. When the price of Bitcoin proliferated to a new high, the price of altcoins followed suit. A price dip followed before regaining ground and recording an increase in value.
While this is a clear case of positive correlation, the strength of the correlation coefficient varies. Some altcoins exhibit strong correlation while others have weaker correlation values.
Examining Bitcoin- Altcoins Correlation 
Bitcoin has had a strong price connection with altcoins. For instance, Cardano and Ethereum have exhibited a 0.95 correlation with the pioneer digital token. Therefore, the altcoins price was pretty much an image representation of bitcoins' performance. In other words, the increase and fall of Bitcoin prices are synonymous with that of Bitcoin.
In some cases, the correlation value has sunk near the zero level.
According to data from Coin Predictor, cryptocurrencies like Hackspace, Public, and Litecoin Plus have a strong correlation with bitcoin. Their correlation coefficient with bitcoin is 0.92. On the other hand, GoToken has the highest negative correlation coefficient of -0.85. Sakura Bloom and Banyan Network correlation coefficient with bitcoin is -84 while Ripio has a -82 correlation.
Bitcoin- Ethereum Correlation
Now, let's consider how Bitcoin relates with Ethereum, which is the biggest altcoin. According to the CoinPredictor analysis, the Bitcoin and Ethereum price correlation coefficient in 100 days is 0.68. This is quite a strong correlation. It means that if Bitcoin increases, Ethereum also increases by almost the same strength and vice versa.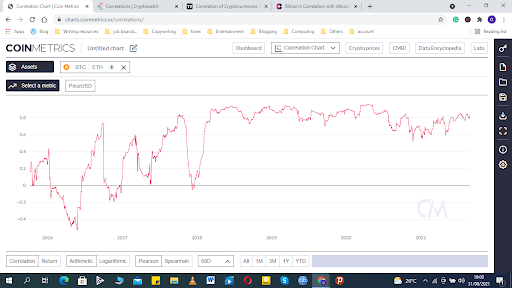 The graph above shows the price connection between Bitcoin and Ethereum as per Coinmetrics. Initially, there was a positive price relationship between Ethereum and Bitcoin. However, the correlation changed to negative between 2016 and 2017. This means that when the price of bitcoin increased, that of Ethereum dropped and vice versa. In fact, the correlation hit -0.5 in May 2016.
Nevertheless, there was a recovery followed by two short stints of correlation decline into the negative areas. The two assets reached a strong positive correlation of 0.9 at the start of 2018. Currently, Ethereum has a strong correlation with bitcoin at 0.8.
Bitcoin – Cardano Price Relationship
Bitcoin and Cardano have had a positive correlation. Coin Predictor data show the two cryptocurrencies have exhibited a 0.75 correlation coefficient in 100 days of price fluctuations. This means that increases in the price of Bitcoin saw increases in the prices of ADA and vice versa. According to TradingBeasts' ADA price forecasts, there is a high chance that we will see a fair increase of Cardano's price in 2022, should this happen Bitcoin will most likely go up too (given the high correlation between these two cryptocurrencies).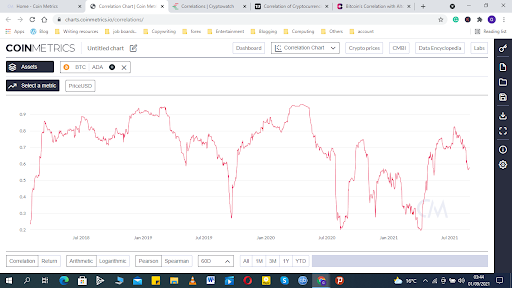 The chart above from Coinmetrics shows a graph of the correlation coefficient between Bitcoin and Cardano. In 2020 the assets pair had a strong positive correlation hitting 0.95. However, the correlation would later subside to 0.2. Currently, the price correlation is 0.57.
Dogecoin Price Relationship with Bitcoin
Similar to Cardano and Ethereum, Dogecoin has also exhibited a positive correlation with bitcoin. According to the Coin Predictor analysis, Bitcoin and Dogecoin have a correlation coefficient of 0.65. This is quite a pretty strong correlation meaning the price of Bitcoin and Dogecoin move almost in tandem.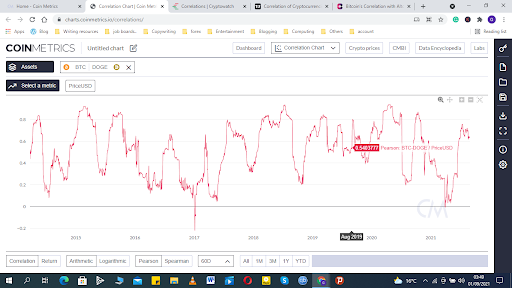 Although the Bitcoin correlation with DOGE has been majorly positive, the correlation was relatively weak in 2017. In fact, it sank to a weak negative correlation of -0.2. However, the price relationship strengthened to 0.92 in July 2018 and 0.93 in April 2020. Currently, the correlation is 0.637
According to Cryptowatch, Litecoin's price correlation with bitcoin was 0.72 in 2020, while Ethereum was 0.66. In addition, XRP and ADA had a positive correlation of 0.52 and 0.39, respectively. USDT price correlation with Bitcoin was quite weak at 0.01, which signifies almost no correlation.
According to Tradingview data,  ADA had a 0.78 correlation with Bitcoin in December 2020, while the correlation between Ethereum and Bitcoin was 0.86 in February 2021.
Why Correlation is Important
Correlation helps crypto traders make informed investment decisions. Essentially, when the cryptocurrency market is on the rise, investors buy Bitcoin. If an altcoin has a positive correlation with Bitcoin, it means its price will also increase.
While most major altcoins have followed the Bitcoin, the future could turn out quite different. Essentially, the number of users is growing, and different cryptocurrencies are emerging. Some cryptos are designed for users to develop decentralized apps, while others are meant for transactions and storage of value. Therefore, it is likely that some altcoin will exhibit a negative or even zero correlation with Bitcoin.
This scenario would make altcoins an ideal choice for portfolio diversification. When bitcoin starts to lose value, investors can offload their holdings to salvage some of the investment and invest in the altcoins.
However, many people trust Bitcoin more than altcoins. This means Bitcoin could continue affecting altcoins market behavior.
Final Word
Bitcoin has exhibited a correlation with altcoins. In fact, the price relation, especially with major altcoins, is mainly strong and positive. That explains the recent bull run in the crypto market. Many altcoins followed the bitcoin price increase. However, the correlation could fall to zero or negative level in future. A declining correlation is not a bad thing. In fact, it provides diversification opportunities. It is a signal of a maturing market which is a win for traders.